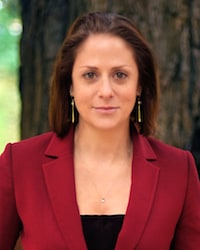 Erin Lane
Founding Partner
Download VCard
Phone: (206) 686-6054
Toll Free: (855) 923-3283

2319 N 45th St #215A
Seattle, Washington 98103
Erin Lane is one of the founding partners of Washington Law Group. She is caring, compassionate, and devoted to her clients. She came from a working class background and understands that money doesn't grow on trees. This is part of why she ended up thriving in her bankruptcy practice. She loves helping good people get back on their feet.
She thrives on helping honest and hard-working folks, who, often through no fault of their own, suddenly find themselves falling on hard times. Bankruptcy is one of the most powerful financial tools on the planet. And, Erin knows the bankruptcy code like the back of her hand. With over a decade of experience, Erin provides the firm's bankruptcy clients with comprehensive relief designed to maximize every possible benefit of their bankruptcy.
She is extremely passionate about her work and genuinely cares about her clients and the results that she achieves for them. Erin is also a bit a physical fitness nut and enjoys starting off every day with a hard work out. And, she enjoys playing hard as much as working hard. She has many passions, but none greater than her work and helping people get the fresh start that they deserve.
Erin has always wanted to be a lawyer. On the playground of her elementary school she told her best friend, whom she is still best friends with today, that she was going to be a lawyer. All of her educational decisions put her on the trajectory to become a lawyer. She majored in Political Science at San Diego State University.
After graduating, she took a year off to enjoy one of her true passion, which is traveling. She also wanted to take a break from school before going to law school at Western State University College of Law where she received her J.D. in 2007.
Prior to founding the firm, Erin clerked for a nationally recognized firm for intellectual property insurance defense, headed a chapter 7 department for a bankruptcy trustee, and managed departments of law firms in consumer law. Prior to founding Washington Law Group, she was the head of the bankruptcy and consumer law department for The Law Offices of Jason S. Newcombe. Mr. Newcombe is now her partner in Washington Law Group. And, she is "Of Counsel" to the Law Offices of Jason S. Newcombe where she continues to manage the consumer debtor and bankruptcy divisions.
Erin is very close with her family, loves to travel and eat, and believes in treating people like human beings, no matter what their background is or their current position in life.
Education
J.D., Western State University College of Law
Jurisdictions Admitted to Practice Washington