Wage Garnishments in Kent
Bankruptcy stop all wage garnishment immediately!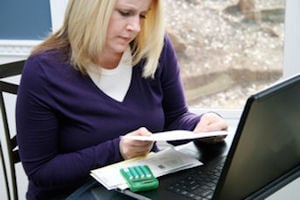 Many Americans live from paycheck to paycheck. This is especially true if you are in financial distress. One unexpected emergency such as a car repair, missed work or a trip to the emergency room can cause debt to go from management to a tail spin before you know what hit you. Once you have started falling behind on a debt payment, a creditor can file a lawsuit against you and garnish 25% of your wages. Once that happens, you will be in a real crisis when you have to choose between food, transportation, or housing.
A bankruptcy will stop all garnishment actions immediately. Our Kent wage garnishment attorneys are very experienced at stopping wage garnishments from taking effect. But, it is absolutely critical that you contact our offices the moment you are notified that a wage garnishment is about to take effect. Our bankruptcy lawyers will work hard to get your petition filed as quickly as possible, which will put your "automatic stay" into effect.
The automatic stay in bankruptcy stops all debt collection, including law suits and garnishments. You may even be able to recover all wages garnished in the last sixty days after you file a bankruptcy. The most important thing is not to wait. We tell all of our wage garnishment clients, don't procrastinate. If you simply bury your head in the sand and hope for some kind of a miracle, bad things generally happen.
When is the best time to contact a bankruptcy lawyer about my wage garnishment?
Even though bankruptcy is a powerful weapon against a garnishment, it is a good idea that you not wait until that happens to file. Bankruptcy is a complicated process that takes a lot of preparation and you do not want to do it in a hurry. If your wages are being garnished, it will make it that much more difficult to get the money together to pay your filing fee, take your credit counseling class and pay your attorney.
You will find that stopping a garnishment with a bankruptcy is quick and easier than you imagined but don't let this idea make you think you can put it off until the last minute. Not only can garnishment lead to financial catastrophe, your employer will find out that you are in financial trouble. This will concern you employer more if you are responsible for handling money.
A good Kent wage garnishment attorney knows the Federal and Washington State bankruptcy laws well when it comes your legal rights and options. They are skilled at properly preparing bankruptcy petitions quickly and accurately. But, again, we urge you not to wait until the last minute. Our bankruptcy lawyers are here to help you get your questions answered quickly and honestly. We want you to fully understand your legal rights, and your initial consultation is always free.
An employer can not fire you for the first garnishment but you don't want your reputation hurt by the employer finding out. Your payroll department has to deal with a lot of paperwork to figure out how much should be garnished and where to send the money. This takes time, and, from your employer's perspective, money. And, in most cases, there is no reason your employer needs to find out you filed bankruptcy.
Very few garnishments come out of nowhere. You probably have had some idea that this was coming for some time. First, the creditor must personally serve you with a summons and complaint. You have twenty days to answer the complaint. After answering the complaint, the creditor has to set a court date where you can appear.
So, if you receive a summons and complaint and think you need to file bankruptcy, contact a good Kent bankruptcy attorney immediately. Although our attorneys may only be able to help you with your bankruptcy, not the debt collection law suit, we can give you an idea of how the lawsuit works and what time frame you are looking at for filing a bankruptcy in time to cut off the garnishment.